Orthodontics in Lilburn, Lawrenceville, and Snellville GA
Orthodontic treatment addresses not only the cosmetic aspect, but also bite imperfections that could lead to damage to the temporomandibular joints (jaw joints) or difficulty in cleaning which could lead to severe periodontal (gum) problems. At Killian Hill Dental Care, Dr. Richard Gangwisch has been treating orthodontic patients in Lilburn, GA since 1982 and has created a multitude of beautiful smiles in both children and adults. We are able to find the most effective and comfortable orthodontic solutions for your individual case with options including traditional braces, Invisalign®, Tooth-colored braces, and even removable orthodontics. We will help you find the best treatment for you that will give you strong and healthy-looking smile that you will be proud to show the world.
To schedule an orthodontic consultation at our Lilburn office, call

770-923-3966 today. Whether you are an adult interested in orthodontia for yourself or for your child, experienced Lilburn dentist Dr. Richard Gangwisch can help you find an orthodontic treatment that will work for you.
Advantages of Orthodontic Treatment
Unhappy with your smile? Undergoing orthodontic treatment to fix this problem can be life-changing. After treatment with braces, Invisalign® or instant orthodontics, you are likely to experience the following benefits:
Feel more confident and have self-assurance
Improved ability to chew food
Alleviation of speech impairment
Straight teeth make it easier to brush, clean and floss teeth
Cleaner teeth mean reduced cavities and gum disease
Reduced grinding and chipping of teeth
Enjoy a comfortable, well-aligned bite allowing for less strain and discomfort on the TMJ (jaw joint)
Reduced risk of injury from protruding teeth
Adult Orthodontics
Orthodontics at Killian Hill Dental Hill Dental Care is not just for kids. In fact, we treat just as many adults as we do for kids and teens. Since we have individual treatment rooms, adults are much more comfortable not being treated in a circle of chairs surrounded by a room full of kids. Especially with Invisalign, most adults can be treated with the invisible braces.
Orthodontics for Children and Teens
An orthodontic evaluation during routine dental examination is very important for children. In many cases, early treatment of orthodontic problems can make subsequent phases much easier, less expensive, or may even eliminate the need for further treatment. Many parents think that one has to wait until all of the baby teeth come out and the permanent teeth are in before starting orthodontic treatment, however, many problems – such as lack of space or crossbites – can be corrected early while there are still baby teeth present. The results can be much more stable when done early. The muscle tone of the lips, cheeks, and tongue are still in a state of flux in a young child. The muscle tone usually doesn't become set for life until all of the permanent teeth come in. That gives a little window of time that the size of the jaw can be changed and the result will be relatively stable, whereas, doing it later in will have a high rate of relapse.
Getting Your Braces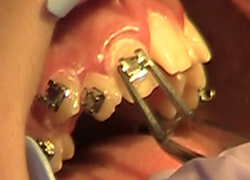 With modern technology, the newer braces can be made in small dots making them much more esthetic. These are bonded to the teeth by etching the enamel surface with acid. However, the molar teeth bear quite a bit of brunt of the bite, so bonding brackets onto those teeth can be frustrating because they can become debonded under normal chewing. Thus, many times it is helpful to go back to the old-style bands for those molars. To seat the bands comfortably, there needs to be a small gap between the teeth. Therefore, separators must be placed ahead of time to create that space. A separator can be an elastic "donut" or a twisted wire. They are placed about a week before the big appointment. This will allow the bands to be slipped on with minimal fuss. They usually will make one's teeth sore for a day or two – nothing that a little ibuprofen wouldn't take care of. But it is sure well worth it because otherwise, the bands would have to be forced on.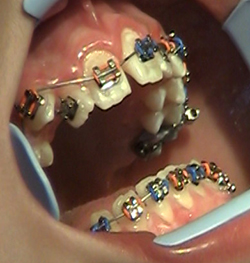 Patients love to choose from our wide range of colors to create new color combinations and patterns to add a little fun and excitement to their braces. If you want to keep it simple and more under-the-radar, a simple silver color options will blend right in with the metal braces and be virtually unnoticeable.
A wire that is shaped in the form of your arch is placed into the slots of the brackets. In the beginning, this wire will look very deformed because the teeth are out of alignment. As the months go by, the teeth are gently moved into their proper position and the wire will straighten out. Each month, we check to make sure that nothing is loose or broken and may change to a stiffer wire and/or give elastics (rubber bands) to wear. Eventually, the teeth become beautifully aligned.
So, you've spent a couple of years being metal mouth with your braces and the time has finally come to get them off. That's the good news-now-here's the bad. You have to wear a retainer for the rest of your life. Orthodontic retention is just as important as the actual treatment. This is because the muscle forces are always there trying to push the teeth back into their original position. It's a constant battle-the good guys against the bad guys-and the only way to win is by wearing the retainer regularly. When the braces are taken off, the bone that holds the teeth is in a state of flux. The teeth are quite loose because the pressure that is applied by the braces erodes the bone on the pressure side and stimulates new bone on the other side. However, the new bone growth is slow to catch up, therefore, loose teeth. The retainer must be worn full time until the bone can heal with the teeth in their new position. The good news is that this full time period doesn't last forever. Once we decide that the teeth are stable enough, you can go to the night time wear. But from that point on, you must sleep with it in forever, or risk undoing all of that time, effort and money to straighten them.
Contact Us Today
To learn more about your orthodontic options in Lilburn, Lawrenceville, Snellville and surrounding areas of Gwinnett County and Metro Atlanta, please call

770-923-3966 today.