Crowns and Bridges in Lilburn GA
Crowns or caps have had over a century of success in saving teeth. Fillings are used to restore tooth structure lost to decay or fractures; however, they do not cover and protect the teeth from fracturing like crowns do. There are three major varieties of crowns – cast metal, porcelain-fused-to-metal, and all porcelain.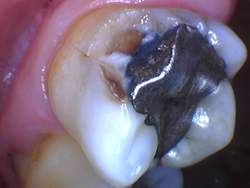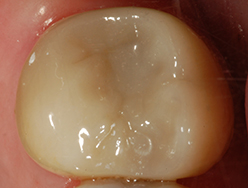 Cast crowns are usually made of gold. They have the longest track record and usually last the longest of the group. This is because there is no veneering surface to fracture and gold is a very tough, inert substance. I have personally observed crowns that have been in patients' mouths for well over fifty years. The drawback is that they look like gold teeth. The other two varieties have a porcelain outer layer. Porcelain can be constructed to almost perfectly mimic teeth. And the porcelain is extremely tough and color stable. There are still quite a few crowns that Dr. Gangwisch placed over thirty years ago that still look as good now as they did on the day that they were put them in.
How a Crown is Prepared and Finished


Restorative dentist in Lilburn GA, Dr. Richard P. Gangwisch, DDS, MAGD, ABGD performs a crown preparation and cementation on an actual patient.
There are a variety of types of porcelain crowns available today. Zirconia is a ceramic material that is so strong that it rivals metal in its durability. In fact, you can even take a hammer to the material without breaking it. A full contour zirconia crown is milled from a solid block of zirconia. By milling it out of a solid piece, the resulting crown is extremely durable and long-lasting. Unfortunately, even though the zirconia is white in color, it tends to be too opaque to be used on front teeth. However, for back teeth, it works great. There are presently some more translucent zirconias that are being produced that are more esthetic in appearance, however, they are not as strong as the original zirconia and they have not had a chance to pass the test of time.
For front teeth where esthetics is vitally important, a material made of lithium disilicate is used. It is also a ceramic substance. The brand name for lithium disilicate is eMax. They are incredibly life-like, imparting a beautiful translucence that glows from within the tooth. These types of crowns make for a stunningly spectacular smile.
Porcelain Crown Covers a Discolored Tooth
This patient received trauma to her mouth when she was younger and her front tooth required root canal treatment. When a tooth has had a root canal, there is no nerve inside to keep the tooth moist, so it will act like a sponge absorbing liquids along with any stains thus turning the tooth dark. We placed a post inside the tooth to help retain the new crown. Then, we constructed a beautiful all-porcelain crown. A central incisor, also known as a front tooth, is the most difficult tooth to match. Notice the custom staining that we did to get an absolutely perfect match.

Click Image to Expand
The old stand-by for crowns is porcelain-fused-to-metal (PFM). It is not used that much anymore, but there are still some good uses for them. The porcelain is baked onto a metal core. The metal can be made much thinner, so it is better for crowns for back teeth. The newer porcelain cores are having very promising results and are excellent for front teeth because light can be transmitted through it giving the crown a natural life-like luster as opposed to PFM where the metal must be opaqued out. For long span bridges, PFM is still the "gold" standard. All porcelain substructures on long span bridges are not strong enough to bear the brunt of biting forces.
Speaking of bridges, a dental bridge is a method used to replace missing teeth. Crowns are placed on either side of the gap and an artificial tooth is suspended between. Since it is made in one piece and cemented in place, it does a great job of replacing a lost tooth, especially in areas that are not a candidate for an implant.
Fixed Bridgework Instead Of Partial Dentures
This patient had lost her front teeth in an accident years ago. She wore a partial denture which covered the roof of her mouth and had to be removed for cleaning and soaking. Fixed bridgework was used to replace her missing teeth by reducing the outer surface of her canines (eye teeth) and placing crowns (or caps) on them. The artificial teeth are then suspended from these crowns and the entire unit is cemented into place permanently. No more metal and plastic on the roof of the mouth to make speech difficult and to alter taste sensations.

Click Image to Expand
The process of preparing a tooth to accept a crown involves removing enamel from the tooth. Since this is an irreversible procedure, it is vitally important that you are in the care of an experienced dentist. Our Lilburn dentists have placed tens of thousands of crowns and a majority of these crowns are still in service many decades later. The preparation phase should be painless due to good local anesthetics. Once the enamel and any residual decay is removed, the tooth is either scanned with a high-tech digital scanner or a mold is made. This is sent to a lab who is able to construct the crown out of extremely durable materials. In the meantime, a temporary crown is made. Since the temporary has to come off to place the permanent crown, a purposely weaker cement is used. Care must be taken to make sure that hard or sticky foods are not eaten with a temporary crown in place so that it doesn't become dislodged.
When the permanent crown arrives from the lab, the temporary is removed and the tooth is cleaned up. The crown is adjusted so that it fits not only the tooth but is also comfortable with the bite. The crown is then cemented into place. Since it takes about a day for the cement to reach its full strength, you must be careful not to chew on the new crown for the first 24 hours.
A dental crown constructed by your Lilburn dentists is expected to last for decades as our experience has shown. They do a great job of protecting teeth from further damage and will stay cosmetically beautiful.
If you are contemplating any type of orthodontic treatment or cosmetic dentistry, don't hesitate to make an appointment for a FREE consultation with our extremely experienced and credentialed Lilburn dentists at Killian Hill Dental Care. Call

770-923-3966 today.